Custom Colors of Water Bottle with Lid

Get creative and personalize your hydration experience with our Custom Colors Water Bottle with Lid! With a range of color options to choose from, you can now match your water bottle to your unique style and taste.
Whether you're hitting the gym, going for a hike, or just running errands, our Custom Colors Water Bottle with Lid is the perfect accessory to keep you hydrated and refreshed all day long. Choose from our selection of vibrant colors to create a water bottle that is truly your own.
Detailed Information of Water Bottle with Lid
Stay hydrated in style with our Custom Colors Water Bottle with Lid, the ultimate personalized hydration accessory! Made with high-quality materials, our water bottle is durable, leak-proof, and easy to clean. The screw-on lid provides a secure seal, ensuring that your drinks stay fresh and spill-free. Plus, the wide mouth opening makes it easy to add ice cubes or mix in your favorite flavors.
How to Custom Water Bottle With Lid?
Bottle Lids: We have more than 200 patents, including appearance patents, utility model patents, etc. Mainly applied in China, Canada, EU, Japan, etc. We also design for our customers, many designs have registered patents by our customers.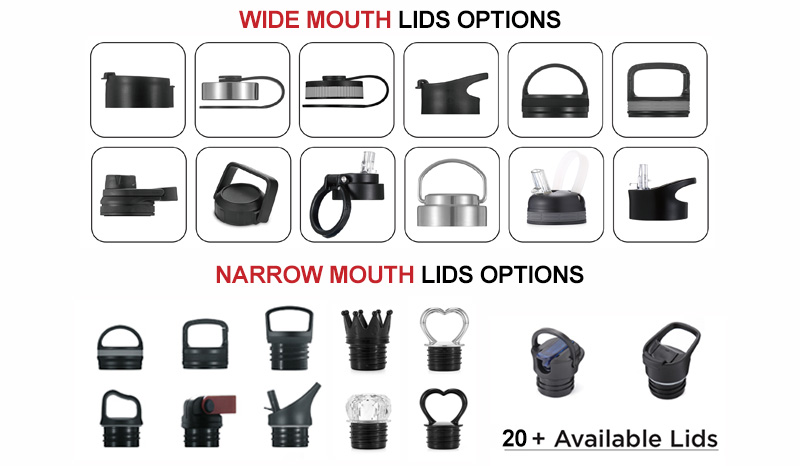 Surface Finish: We are capable of making thermal transfer, decal, 3D printing, brushed stainless steel, spray painting, powder coating, UV coating, water transfer printing, gas transfer printing, etc.

Logo Printing: We can customize your own brand logo. We are available of making silkscreen print, laser engraved, embossed logo, heat transfer print, 4D print, sublimation transfer, etc to represent your company's personality and brand.

Packaging Box: We have a variety of packaging methods, including egg crate, white box, custom color box, cylinder box, display box, etc to ensure that your products are in good condition during transportation.
Logistics & Delivery: You can choose to have your orders sent via sea, air, or railway when available. The freedom to choose your shipment method gives you more control over lead-time for your orders.