Water Bottle Manufacturer in China
Excellent Private Label & Custom Manufacturing Ability
Quality Service Team, Working with 1500+ E-commerce Clients
Automated And High Efficient Production
Approved By LFGB, REACH, FDA, BPA-Free
Passed factory audit of BSCI, Walmart, Starbucks, etc.
As a leading water bottle manufacturer specializing in the design and manufacture of water bottles, we are committed to providing our customers with high-quality, innovatively designed products for all types of personal, commercial and customized needs. Whether you are an individual consumer or a wholesaler, we are able to offer flexible customization options to suit your needs. From colors, patterns to materials, we can satisfy your requirements. While pursuing excellence, we are always concerned about sustainable development. We use environmentally friendly materials and optimise our production processes in an effort to reduce our impact on the environment. At the same time, we also use waste gas and water treatment facilities, solar energy power generation.
Types of Wholesale Water Bottle Products
Our Factory Audit Certificition
Quality Assurance
We passed the factory audit of BSCI, Walmart, Starbucks, Target, Costco, Hema. Made of environmental protection material and could pass FDA and LFGB test.
eco-friendly raw material from water bottle manufacturers in china
As a professional water bottle manufacturer, Everichhydro has passed certification including:
RCS: RECYCLED CLAIM STANDARD
GRS: GLOBAL RECYCLED STANDARD
RECYCLED PERCENT UP TO 90%
Undoubtedly, stainless steel has a significant contribution to environmental protection. Stainless steel is a 100% recyclable material and does not have the problem of downgrading during recycling. It is one of the most recyclable materials in the world.
Choosing products made from recycled materials, certified by RCS, helps to increase the use of recycled materials and reduce waste.
When choosing a water bottle supplier, it's important to consider factors such as durability, portability, and environmental impact. Ultimately, the best material for a water bottle depends on individual needs and preferences.
Premium Quality In Our water bottle manufacturer
As a professional water bottle manufacturer in China, Everichhydro provides water bottles bulk wholesale service with high quality. Our wide mouth water bottle wholesale products are perfect for outdoor activity, school, office, gym, and so on, which are durable, insulated, BPA-free, and eco-friendly. Besides, customized water bottles are available for your brand logo design.
why choose Everichhydro water bottle
Strong ODM & OEM Ability
Our design team composed of more than 20 designers, every year we created more than 100 innovative designs for the market, and will patent some designs. You can provide sketches/designs for us to design, and we will protect all the designs of every client.
We Fulfill Efficient And Automated Manufacturing
 Our water bottle factory embraces automation and invest a lot into it to stay competitive in the industry. Everich can handle your project in a short time and offer your drinkware products of high quality.
Quality Management System
Our responsible QC staff will be with you all the way from design to production. You can create a strong foundation for big return business thanks to our QC system.
Free Water Bottle Sample
Everichhydro offers you a free water bottle sample for testing and to confirm that we met your custom design requirements. For existing samples, it takes about 2-4 days to reach. If you want your own designs, it takes 5-7 days, subject to your designs whether they need a new printing screen, etc. Click here to get your sample now!
We Offer Various Customized Services
Tell us your custom water bottle idea or show us any photo about what you want to make. Our water bottle company will according to your request to make 2D or 3D drawing to let you confirm.
Water Bottle Packaging & Transportation
We will take the most reasonable and security packing way with all kinds of soft packing material, as well as airbags, so that make sure your drinkware products arrive safely.
Benefit From Your Committed Water Bottle Manufacturer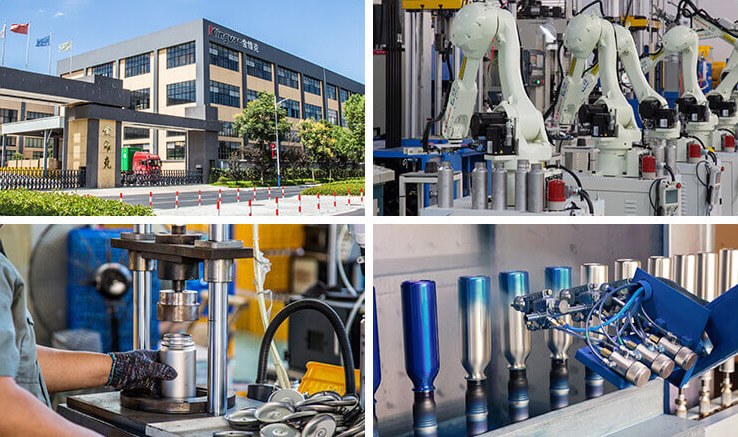 Choosing Everichhydro as your water bottle manufacturer allows you to reduce your operating expenses while enjoying the benefits that our water bottle products can give you. With more than 20 decades in water bottle wholesale manufacturing, we embrace automation and invest a lot into it to stay competitive in the industry. By using the robot system to do labor work, the efficiency has been significantly improved and greatly meets the standards of our customers. 

Fast Production Turn-around
We manufacture your drinkware products fast to ensure that the production and distribution schedules of your business are not delayed or disrupted.
We Respond To Your Inquiry Within 12-24 Hours
We are committed to providing you with water bottle wholesale solutions quickly, and we try to make our response times as short as possible so that you can easily access our services.
frequently asked questions