Wholesale BPA Free Water Bottle
Made of 100% BPA-free & Non-toxic materials
Designer & Engineer Team For OEM & ODM Projects
Professional QC Team Control Product With High Quality
Approved By LFGB, REACH, FDA, BPA-FREE
Passed factory audit of BSCI, Walmart, Starbucks, etc.
Find plastic water bottle manufacturer at Everichhydro. We provide high-quality bulk BPA-free water bottles wholesale products in many countries at a reasonable price. As a professional water bottle manufacturer in China, Everichhydro is well-known as the most satisfying service in the whole industry. We have BPA-free water bottle wholesale products of various colors and capacities to meet your demands.
Besides, outdoor sports water bottles and gym bottles, even 1 gallon BPA-free water bottles wholesale products are also available, designed for lightweight and eco-friendly with strategic careful research and development. Our multi-functional plastic water bottles are uniquely designed and feature-rich drinking container. It is typically made from high-quality plastic materials and possesses characteristics such as durability, lightweight, ease of cleaning, and more. It is suitable for various different scenarios and purposes.
Different types of plastic water bottles wholesale products have different manufacturing processes, including extrusion, blow molding, and rolling. Meanwhile, to ensure product quality and safety, Everichhydro would strictly control the process parameters and quality standards in every production process.
Customized and available in bulk BPA-free water bottles at a lower wholesale price. Welcome to explore Everichhydro collection below.
Premium Quality BPA Free Water Bottle Bulk
Our Factory Audit Certificition
Quality Assurance
We passed the factory audit of BSCI, Walmart, Starbucks, Target, Costco, Hema. Made of environmental protection material and could pass FDA and LFGB test.
Benefit From Your Committed plastic water bottle manufacturer
Our BPA free water bottle manufacturer embraces automation and invest a lot into it to stay competitive in the industry. Everich can handle your BPA free water bottle bulk project in a short time and offer your drinkware products of high quality.
We manufacture your drinkware products fast to ensure that the production and distribution schedules of your business are not delayed or disrupted.
Our responsible QC staff will be with you all the way from design to production. You can create a strong foundation for big return business thanks to our QC system.
We provide you with free samples to test and confirm that we meet your custom design requirements. For existing samples, it takes about 2-4 days to arrive. If you want your own design, it will take 5-7 days.
Eco-friendly Raw Material From Plastic Water Bottle Manufacturer
Tritan Material
Tritan is BPA-free and FDA/LFGB tested. It is currently the safest and healthiest plastic material and is the designated material for European and American baby bottles. It is the most used material in the BPA-free bottles exported by our company, and the price is also the most expensive among plastic materials.
SK Material
Both Tritan and SK are made of high-temperature-resistant plastic and are relatively safe. Its overall performance is close to Tritan, and its price is lower than Tritan. It is often used in low-end temperature-resistant plastic water bottles. The highest standard SK material can also pass the FDA/LFGB test, with a temperature resistance of 100°C.
PETG Material
PETG is commonly used in sports bottles for cold water and has a heat distortion temperature of 65-70°C. Due to the extrusion blow molding process, the thickness of this plastic water bottle will be relatively thin, about 0.5mm (the thickness of conventional sports bottles is about 1.2-1.5mm), so the resistance to falling is poor.
AS Material
AS is a medium material, and the unit price of the material is low. Excellent light transmittance, blue background, poor impact resistance, easy to scratch. Temperature resistance 80 ℃, can not withstand too high temperature. AS material is often used in single/double-layer straw cups, coffee cups, cold drink cups, tea partition accessories.
Recycled Plastic
Recycled plastic refers to plastic materials that have been processed and repurposed from waste or discarded plastic products, rather than being newly produced from raw materials. This process involves collecting, sorting, cleaning, and melting down plastic waste to create new products.
Design BPA-free water bottles wholesale with us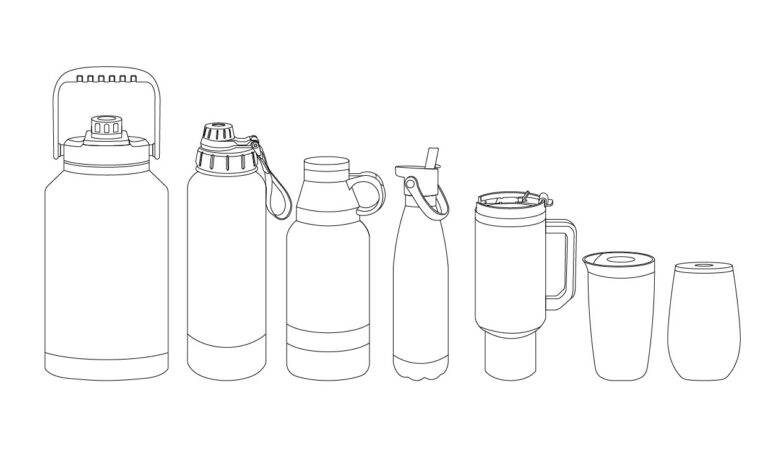 Over the years, as a company with outstanding capabilities in the field of BPA-free water bottle design, we have constantly pursued excellence and endeavoured to blend function and aesthetics to bring you unique BPA-free water bottle designs.
Everichhydro has a strong R&D design capability, with our design team composed of more than 30 designers. Every year we could create more than 450 design scheme of new arrivals. Our company's own annual average design ODM molding are nearly 100 projects, and has been registered patents over 400. We have a unique and forward-thinking approach to design.
You can provide sketches/designs for us to design, and we will protect all the designs of every client. In the pursuit of fashion and practicality, plastic water bottle design has become an indispensable part of modern life with its versatility and functionality. We are leading the trend of plastic water bottle design, integrating innovation into every detail to bring you a unique experience.
Custom Wholesale plastic Water Bottle Surface Finish
We use advanced surface treatment technology to combine exquisite craftsmanship with superior texture. Here are some common surface finishes for plastic water bottles:
Smooth Finish
Textured or Gripped Finish
Matte Finish
Embossed or Debossed Details
Special Coatings
There are various ways to apply custom logo treatments to plastic water bottles, allowing for a range of branding options. Here are some common methods:
Silk Screen Printing
Heat Transfer Printing
Water Transfer Printing
UV Printing
Laser Etching
Paint Spraying
Pad Printing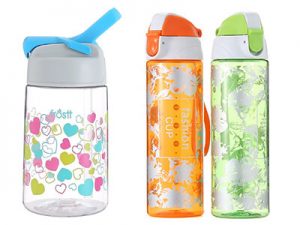 Bulk Bpa-Free Water Bottles Manufacturing Process
frequently asked questions