Different Surface Finish of Everichhyro Large Stainless Steel Water Bottle
A large stainless steel water bottle is a reusable container designed to hold a significant amount of liquid. Typically, these bottles are made of high-quality stainless steel that is durable, long-lasting, and easy to clean. They are ideal for those who need to stay hydrated throughout the day, whether at home, work, or on the go.
Detailed Information of Large Stainless Steel Water Bottle
The design of these bottles often includes a wide mouth opening for easy filling and cleaning, a screw-on or snap-top lid to prevent leaks, and a sturdy handle or strap for easy carrying. Some models also feature double-walled insulation to maintain the temperature of your beverage, preventing condensation on the outside of the bottle.
Overall, a large stainless steel water bottle is a practical, eco-friendly, and stylish accessory that can help you stay hydrated and reduce waste from single-use plastic bottles.
How to Custom Large Stainless Steel Water Bottle?
Bottle Lids: We have more than 200 patents, including appearance patents, utility model patents, etc. Mainly applied in China, Canada, EU, Japan, etc. We also design for our customers, many designs have been registered patents by our customers.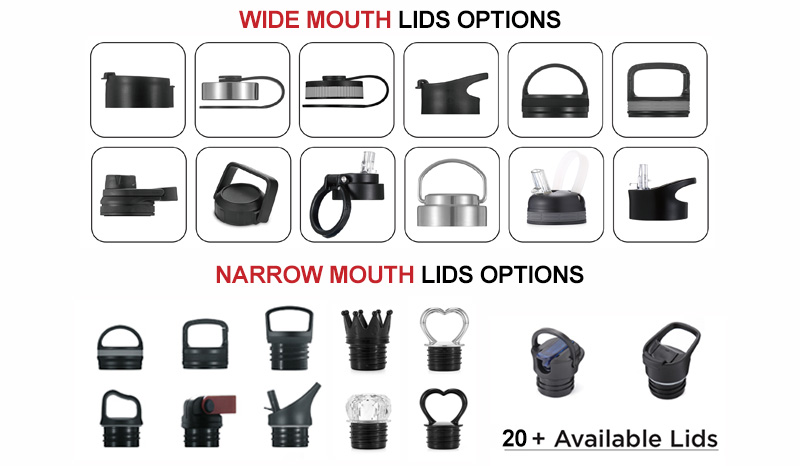 Surface Finish: We are capable of making the thermal transfer, decals, 3D printing, brushed stainless steel, spray painting, powder coating, UV coating, water transfer printing, gas transfer printing, etc.

Logo Printing: We can customize your own brand logo. We are available of making silkscreen prints, laser engraved, embossed logos, heat transfer prints, 4D prints, sublimation transfers, etc to represent your company's personality and brand.

Packaging Box: We have a variety of packaging methods, including egg crate, white box, custom color box, cylinder box, display box, etc to ensure that your products are in good condition during transportation.
Logistics & Delivery: You can choose to have your orders sent via sea, air, or railway when available. The freedom to choose your shipment method gives you more control over lead time for your orders.